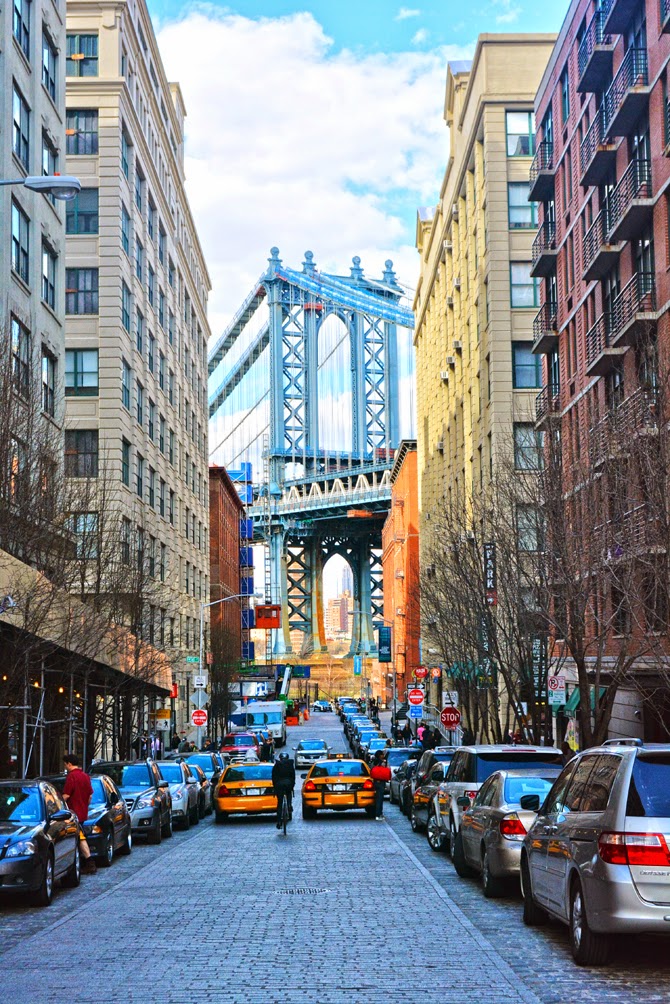 For our new travel series, we are asking photographers, artists and designers to share their travel tips and suggestions. Since travel season is coming up, I wanted to share some travel inspiration. Today, Melinda from Melinda's Musings shares things to do in New York City…
Hello Artistic Odyssey readers! I'm Melinda – a "designer, dreamer and adventure-seeker". When I'm not busy designing children's clothing for my day job (or practicing yoga), I love to travel and take pictures. And when an out-of-state adventure isn't possible, I like to explore my own city – New York City. From visiting restaurants in NYC with a nice view and walking over the Brooklyn Bridge, to watching a broadway show and visit Madison Square Park, the options are really endless. But I thought I'd focus on a couple of neighborhoods in my favorite borough – Brooklyn.
Things to Do in New York City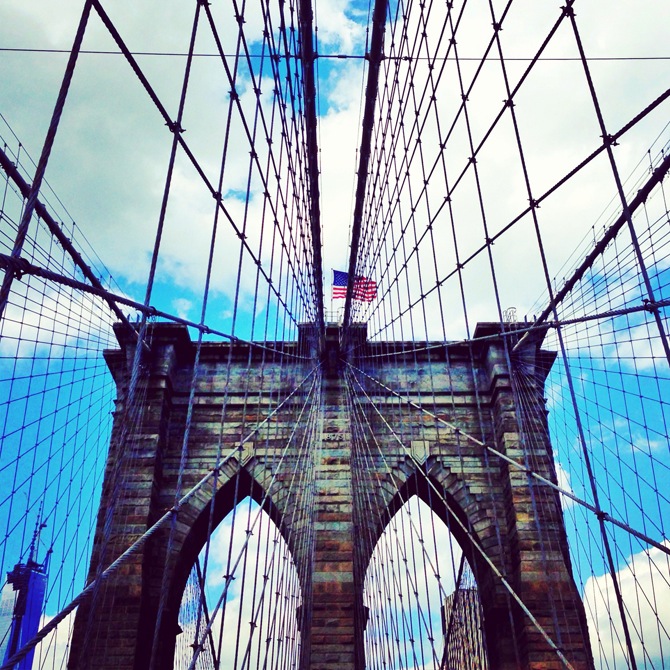 If you happen to be staying in Manhattan, begin your trip to Brooklyn by walking over the Brooklyn Bridge. It's a quick walk (about 1.1 miles), with beautiful views – kind of a must-do activity when you're in New York! (Just be sure to stay in the pedestrian path and watch out for the bicyclists!) I recommend staying in one of the times square hotels, the location is amazing and the views are stunning!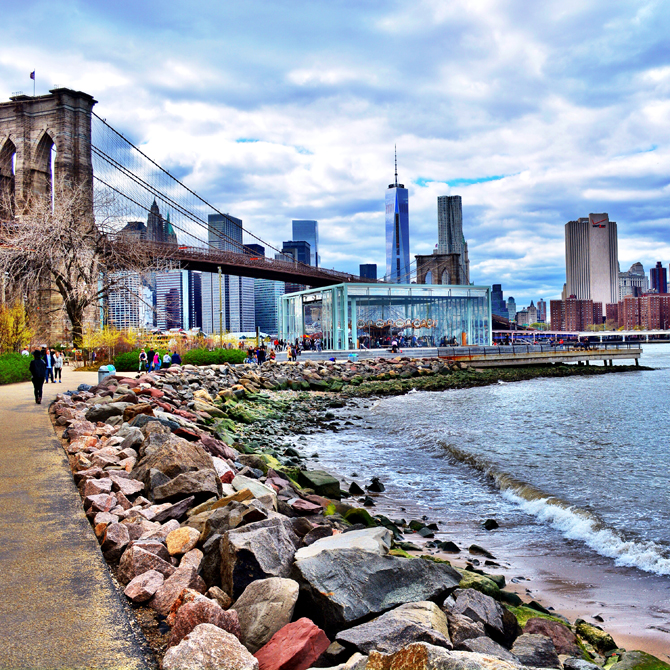 Once you're in Brooklyn, explore the bridges from a different angle by wandering through the streets of DUMBO ("Down Under the Manhattan Bridge") and along the water at Brooklyn Bridge Park. Take a spin on Jane's Carousel and, if it's Sunday, skip the restaurant for lunch and grab something from one of the many vendors that make up Smorgasburg.
Of course, after all that walking and eating, you may need an afternoon pick-me-up. Good thing coffee has become the new "craft beer" of Brooklyn. There's lots of café options to have your daily cappuccino or cortado.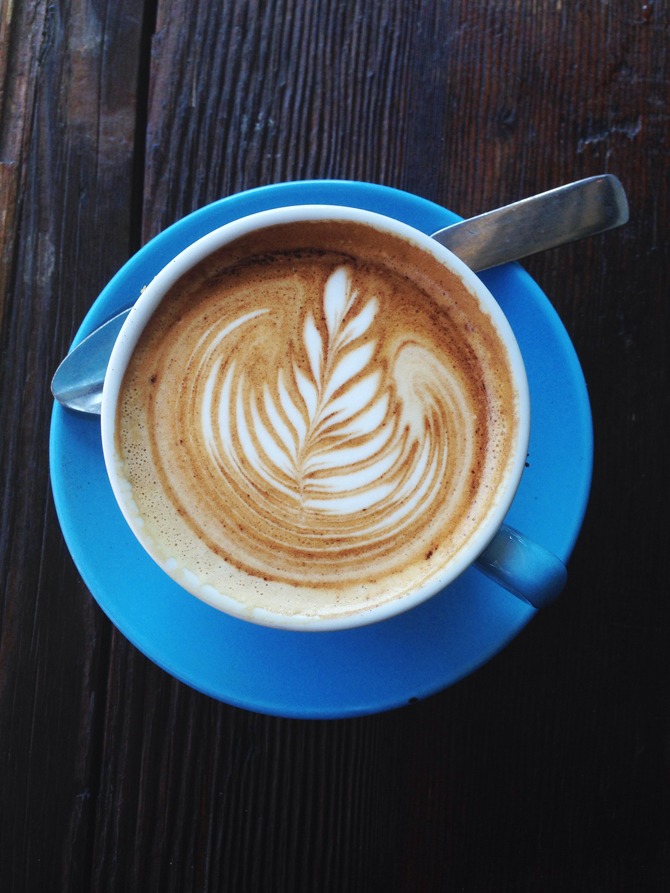 One of my favorites is at Milk Bar. You'll have to head up to Prospect Heights/Park Slope for that, but once you're there you can spend the rest of the day (or day 2!) exploring this neighborhood. Strolling past the beautiful brownstones is wonderful enough, but the outdoor attractions of this area really begin at Prospect Park.
If it's Saturday, you can take a stroll through the farmer's market that sits at the entrance of the park on the Grand Army Plaza side.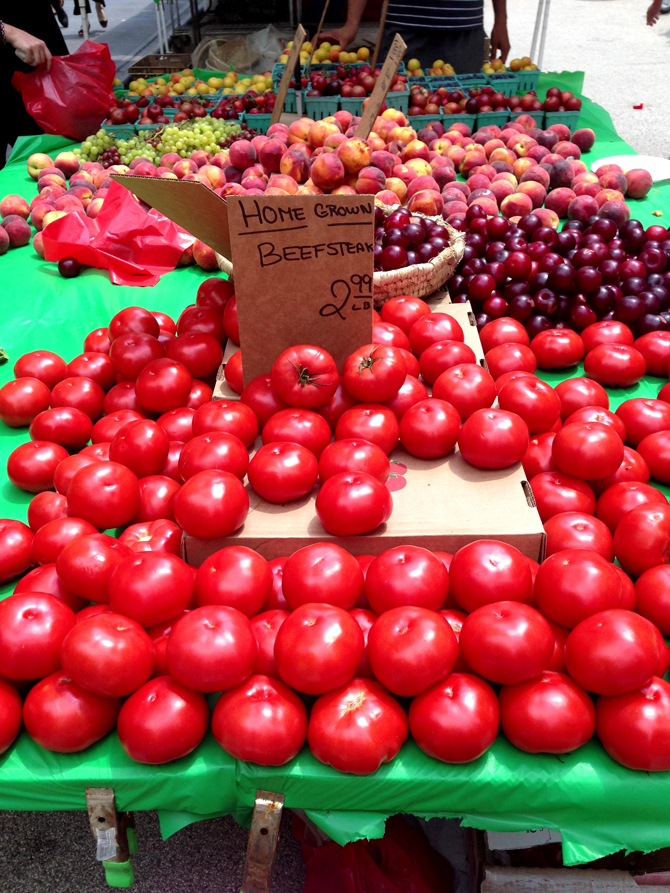 Right now, it's flower season, but soon the market will be full with green veggies, bright tomatoes, and berries. (Plus, spicy pickles, homemade honey, craft artisans and more!)
After you've gotten your fill of fresh foods, walk a few paces to the stunning
Brooklyn Central Public Library.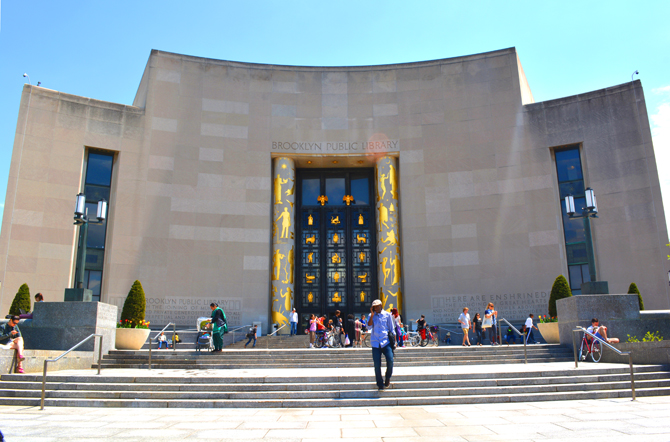 You can admire it from the outside, or take a walk inside, but you'll want to save time for the next cultural sites that are right up the street.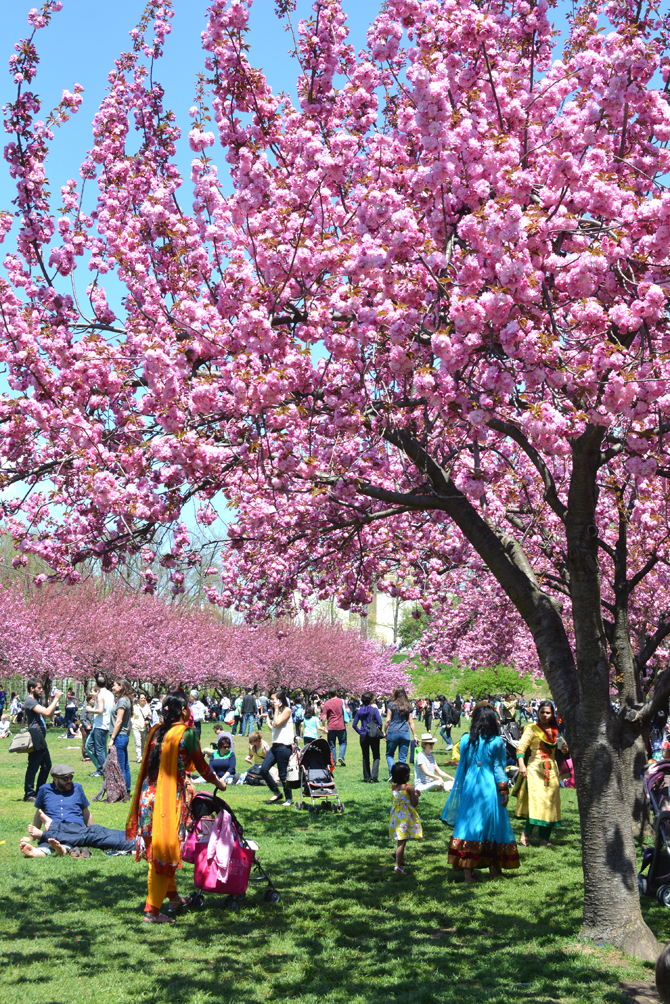 The Brooklyn Botanic Garden is lovely, and (if you're an early bird) take advantage of the free admissionon Saturday mornings until 12pm. Right now is an ideal time to go, as the cherry blossoms are in full bloom.
You'd be foolish not to stop in the
Brooklyn Museum
after your trip to the gardens…it's right next door!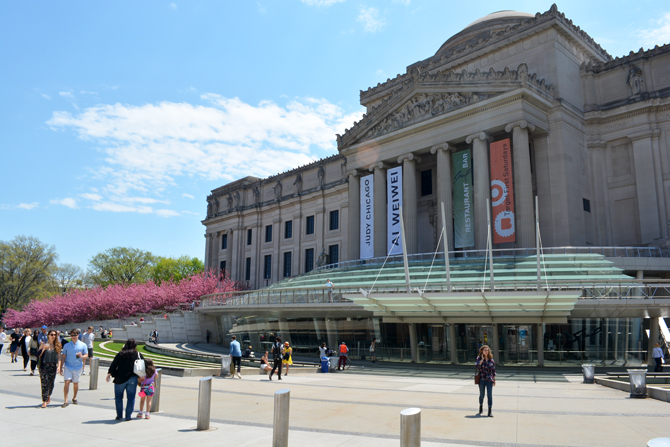 On the first Saturday of every month, Target sponsors First Saturdays at the museum – admission is free from 5-11pm, and there's music, performances, talks and dancing!
Was this helpful? Save Things to do in New York City for later.
For more travel tips and inspiration, please visit my blog, and connect with me on Instagram, Twitter, Google+ and Pinterest. If you're traveling to NYC, I'm always happy to offer more suggestions for things to see and do in this wonderful city. Thanks again to Artistic Odyssey for having me guest post here today!
(Images: Melinda)