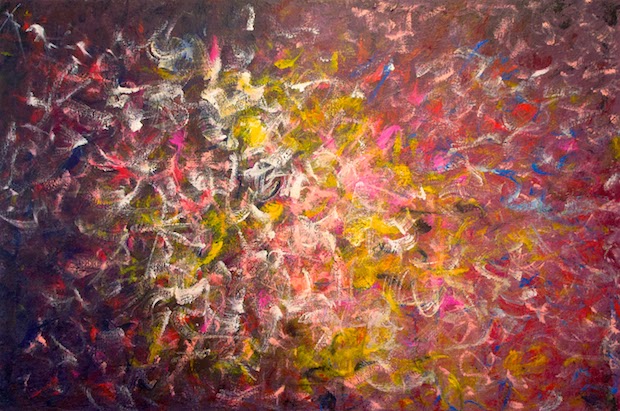 Zimbabwean-born, New York-based artist Derek Kaplan creates expressive abstract paintings. Here, the self-taught artist shares his perspective on discovering art, his tools, inspiration, and more…
Take a look at Derek Kaplan's beautifully colorful works and don't miss his interview with Artistic Odyssey below.
What was it that first drew you to art? 
DK: Growing up in Africa, I spent much time outdoors, observing the African scenery, it's wildlife, it's sunsets and especially its famed 'African thunderstorms'. Since I can remember, at a young age I would sit under the shade of a tree in our garden and draw all day, sometimes having to run for cover from the afternoon thunderstorms. It was my escape from the real world!

What inspires you?
DK: I am inspired by the beauty of nature, especially the extremes of it's beauty, such things as the aurora borealis, ocean sunrises, dark stormy thunder clouds…
What is your most important artist tool? 
DK: I love my squeegee and use it for almost every piece I create.  It can do something quite magical to paint if used correctly, at the right time. I could swear it almost has a mind of it's own!

Which of your artworks are you most proud of?
DK: I see all of my art works as children, so each piece is significant and unique in it's own way. The piece I am most proud of is 'Don't' Look Back', which for me was a very powerful painting. It was created to heal wounds of the past, and strengthen our inner being for the journey that lies ahead in life.
Special thanks to Derek! See more of Derek Kaplan's work here. Also, see more of Derek Kaplan's storm artworks here. Looking for more art inspiration? Find it here.