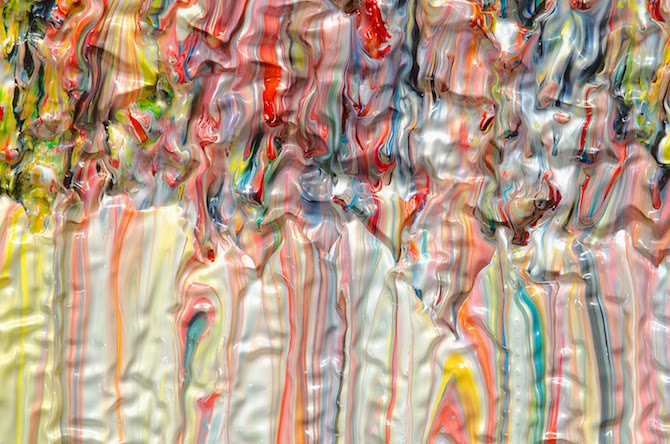 Artist Mark Lovejoy creates highly textured mixes of commercial printing inks. Discussing his artwork, Lovejoy explains, "These are not photographs of paintings – no paintings exist. These images are of something as fleeting as any street scene or sunset – illuminated pigments, diluents, extenders, resins, oils, fillers, waxes, drying agents, etc. which, depending upon the mix, have varying miscibilities, viscosities, tacks, surface textures, reflectance, drying times, etc." The end result are these captivating and vibrant images.
In his own words, the artist describes his motivations: "I'm very interested in Carl Jung's idea of the collective unconscious, and I see the images as a spontaneous recognition of forms, patterns and energies that resonate with our psyches," he says. "My father was a geologist, and many of the images are clearly abstractions of landforms and topographies. Others have their origin in biological, chemical and cosmic forms and structures that are inherently embedded in our DNA. Hence, the attraction of these abstractions for the 'man in the street.'"
Inspired by the natural world, Lovejoy's work is incredibly impressive, and establishes his unique methods and innovative eye. You can see more of his work here.