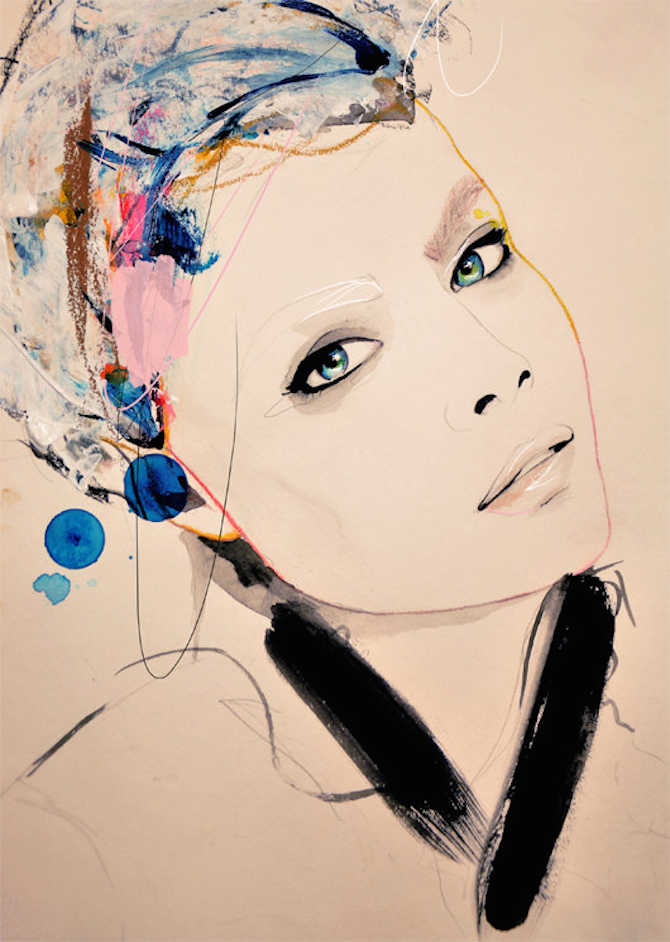 Denver-based artist
Leigh Viner
is known for her stunning fashion illustrations and photography. Viner's artworks display her unique ability to depict unfinished, yet expressive figures. I've always had a soft spot for Viner's gorgeous fashion illustrations. I mean, what's not to love? And, most of her illustrations are available on
Etsy
.
I had the opportunity to chat with Leigh Viner about discovering art, her process, inspiration and more. Here is what she had to share…
What was it that first drew you to art?
LV: It has always been a natural interest for me since I was really young. I used to sit in my bedroom or this large chair in my Mom's living room and doodle and draw away when there was any downtime. I was also a shy child and it was a comfort for me to be able to use it as a way to express myself.
What inspires your creativity?
LV: I am inspired by so many things. It can come from editorials, music, film, traveling or just a walk with my daughter in the afternoon.
What is your most important artist tool?
LV: I use quite a few different types of media so they are all very important to the creative process for me
Which of your artworks are you most proud of?
LV: Each piece I create, I do so with passion and upon finishing up each one, I have that sense of pride at it's completion. If I had to choose one though, I would say "Cricket". When I completed this piece I almost put it in my archives and was not even going to share it or sell it. I went ahead and did so anyway and now today it is one of my most popular pieces to date.
"Cricket" By Leigh Viner
Special Thanks to Leigh Viner!
Now for the Giveaway… I will be giving one lucky reader an art print of their choice from Viner's Etsy shop. The art print will be 8x12inches and is guaranteed to look just as pretty in your space as it does on screen. Simply, pick your favorite art print, and leave a comment below. A winner will be chosen at random and announced here next Friday, July 25th, 2014. Good luck!
UPDATE WINNER IS COMMENT NUMBER 7! Congrats!  Comments have been hidden to protect email addresses.
P.S. Be sure to follow us on Facebook, Twitter, or Bloglovin' to know about the latest stories and giveaways!