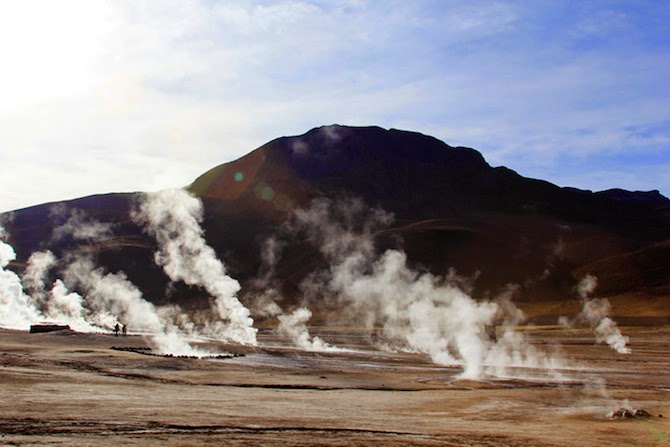 It takes just two hours by plane to get from the Chilean capital Santiago to one of the main attractions of Chile and the whole continent, San Pedro de Atacama. This small village maintains very a special atmosphere and links tourists with the stunning attractions around. Explore hidden treasures, such as, natural lagoons with clear blue water 3000m high in the mountains, salad lakes with flamingos and so on. Atacama is the perfect place to experience the grandiosity of untouched nature and to see landscapes that will leave you speechless. The popularity of San Pedro can be compared only with the popularity of the other "must-see" destinations in Chile, I will talk about national parks situated in Patagonia.
But unlike cold Patagonia, which is highly recommended to visit for a short period of time starting in December till February, San Pedro de Atacama welcomes tourists all year round. Thanks to the Atacama desert, the region is dry and hot. (Actually Atacama is known to be the driest desert on earth.) With all the following consequences: the air is dry, UVA sun rays are very active and the traveler must be prepared for the strong weather contrast between day and night. The temperature during the daytime never become colder than +18, even during the winter. At summer +30 is expected.
During my two trips to Atacama I created a personal list of best places to see in Atacama. Here we go!
1. Geysers El Tatio
I would characterize a trip to El Tatio as the most difficult one due to the following reasons: early wake-up call (before the sunrise), high altitude and the temperature slightly above the zero. But all the difficulties are rewarded with an unforgettable view of geysers and piles of smoke!
Some interesting facts about El Tatio:
 El Tatio comes from a word Tata-iu, which in translation from kunza (the original language of local habitants) means crying grandfather.
Geyser field of El Tatio consist of 80 active geysers, which are located 4300 meters above the sea level.
The height of geyser's eruption can be up to 7 meters.
 The temperature of the steam columns reaches 85°C (which is the maximum possible at this altitude), and erupts to a height up to 7meters.
 Every year 100,000 tourists come to see El Tatio.
El Tatio is the third largest geyser field in the world, after Yellowstone in the United States and Valley of Geysers in Kamchatka Peninsula, Russia.
In order to take a tour to El Tatio you have to wake up at 4 am or so. Approximately at 5 am bus picks the sleepy traveler up at their  hotel. The way to the top of El Tatio field takes one hour, which could be wisely taken for an extra hour of sleep.
Another tricky issue is the cold. At an early hour the temperature fluctuates between 5-7°C, which means a traveler should wear some really thick clothes. Wish I knew that the first time I came there… Why get there so early?
The reason is that the early hours before the sunrise are best to contemplate an impressive landscape with dense steam columns produced by craters – the columns of steam condense in the cold air and vanish as the air warms up. It leaves a long-lasting impression…. After a stroll along geysers one can bath in a small thermal pool, usually it's a part of any tour to El Tatio. I did it last year and it was a real act of bravery.
To undress in this cold is one thing, but to get out of hot waters after is another thing! After this trip I have a really strong desire to go to Kamchatka Peninsula in Russia – to see Valley of Geysers!
2. Tibenquinche Lagoon.
This salt flat is vast and sweeps miles away. The most impressive moment comes during sunset when the mountains wrapped up in pink smoke get reflected in numerous little lagoons and puddles. For some enigmatic reasons Tibenquinche is not as popular among tourists like other places in Atacama. This fact makes the salt flat even more attractive, isn't it?
To enjoy at full the beauty of the place, be sure to get there just before the sunset. At this hour you will see how the colors of the sun change the landscape around drastically. Soft and delicate pastel palette turn into vivid and intense colors, and shortly after everything turns into a blue shadow.
The territory of Tibenquinche consists not only of a lagoon, but also of a big flat salt. This diversity gives a special allure to the place and lots of new things to discover.
Have you ever walked on the crispy salt ground? Absolute joy!
3. Purita Hot Spring
When there is an opportunity to relax in a natural thermal source, first discovered by the Incas, you simply can't let it pass by. The Puritama Hot Springs is a complex which consists of eight natural pools with geothermal spring water, rich with lithium and other mineral elements. In translation from the ancient pre-Inca local indigenous language Kunza puri means hot and tama water.
The water temperature is not very hot though and vary between 25ºC and 30ºC. All the pools form a river with waterfalls, but each pool can be reached only by wooden path. The first and the largest pool of the chain is reserved for hotel Explore guests only.
The explanation is easy – since recently Puritama complex belongs to Explore hotel, which is one of the Atacama's most expensive and luxurious resorts. Until that time, Puritama wasn't a complex as it is now, it was just a hidden oasis for locals only, but growing tourism flow changed the situation. Incas used this place both for bathing (but at that time the area was much smaller) and growing  сrops and vegetables in special terraces made of stone, which can still be clearly seen.
4. Moon Valley
Moon Valley located in the heart of Atacama desert – which is known to be the driest in the world. This specific location produces a wide range of unavoidable "paranormal" elements you can see there. The landscape is composed of distorted canyons (they really bear a likeness with the Moon surface), salt residues and a diverse palette of beige, white, gold, brown and red. A definite must-see!
After taking a stroll around the village of San Pedro, the next day I headed to Moon Valley (Valle de la Luna). This place was chosen as a first point due to the fact that the Valley is located on the same altitude as the village (2,400 m), which is supposed to be the best way to get used to the high altitude of the other attractions of the region.
5. Cejar Lagoon
In comparison with austere beauty of El Tatio or Moon Valley this lagoon seems as a sweet dessert with soft pastel colors: pale gold, mountains in pink smoke in the distance and blue lakes where you can drift like a cork due to the salty water. Apart from the beautiful scenery, Chaxa is remarkable for it's location in the middle of National Flamingo Reserve. So this place is perfect to contemplate flamingos in their natural surroundings.
6. San Pedro de Atacama
The life of Atacama, its heart and soul, takes place in San Pedro de Atacama. Simply because here are placed almost all the hotels, shops and tourist agencies. Not to mention, the town strives to keep and outline it's indigenous origin. Which means the place is worth dedicating some time for a walk around.
7. Miscanti and Miñeques Lagoons
Two impressive lagoons Miscanti and Miñeques  are distinguished by intense blue colors and location 4200 meters above the sea level.  Remarkable view, worth of thousands of postcards…Miscanti and Miñiques are located 4200 meters above sea level in the middle of a magical natural landscape, surrounded by mountains. These Altiplanic lagoons are one of the 7 sectors that conform Los Flamencos National Reserve. They are located at 18 kilometers to the south of the small old village Socaire.
This little town is famous for it's rustic church and terraces of Incas which are still used for growing vegetables. Both Miscanti and Miñiques lagoons are still governed by the indigenous community of
Socaire
town.
The typical tour starts at Chaxa Lagoon and then leads to Miscanti and Miñiques. Having got to the top I realized that all the sufferings caused by oxygen deficiency attacks would be compensated well enough. The scenery was absolutely stunning.
The high wall of mountains hides a real treasure of an intensive blue color which reminds of a sapphire. Yellow paja brava makes a fantastic contrast with this bright blue – multiply this effect by the silence and peaceful scenery miles around and soon you will realize how amazing it is.
The eruption of the Miñiques volcano one million years ago caused the water that once drained to the Salt Flat to stagnate giving rise to these two highland lakes, standing respectively on the hills Miscanti and Miñiques.
Contributor:
Anastasia Polosina made her professional career as a fashion journalist and stylist  in magazines. After moving from Russia to Chile, she fully dedicates herself to her personal blog. Where she writes about her travels, adventures, and style. You can find her on 
Pinterest
.