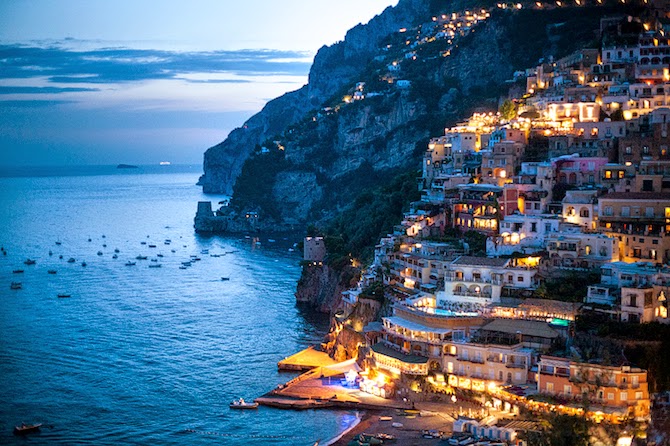 I traveled to Italy, specifically the Amalfi Coast of Southern Italy. I chose this destination because it was listed as a 'must see journey of a life time' in a travel magazine I was reading earlier and although I had previously visited (and adored) Italy, I had never even heard of the Amalfi Coast prior to coming across this article. The article's images of the sun-bleached terra cotta cottages clinging to the gravity-defying sun-drenched cliffs along this stretch of coastal Italy captivated me, and my next adventure was born.
Travel Guide to the Amalfi Coast
I stayed in one of a handful of tiny and charming, vertical towns that dot this stretch of coast, called Positano, located in Campania, Southern Italy that overlooks the Mediterranean Bay of Salerno. There are of course, other equally beautiful options along this stretch of coast, including Ravello, Amalfi, Sorrento, and the beautiful (but staggeringly expensive) island town of Capri, but Positano is my pick for best place to stay. Pedestrian only, this adorable little town has a charming, easy-going atmosphere with its tiny winding streets carved out of the cliffs overlooking the ocean. It offers lots of accommodation and eatery options in every budgetary range and breath-taking ocean views, beach-side relaxation, fantastic shopping—there is something for everyone.
No need to rent a vehicle as local buses come and go all day long, stopping at all of the little towns and major attractions along the coast. However, if you are afraid of heights, beware of looking down as you navigate the dizzyingly high and staggeringly steep narrow roads of the coast—this thrill ride may leave you clinging tightly to the person sitting next to you!
As with the rest of Italy, there are so many delicious food and drink choices to try on the
Amalfi Coast
, it's difficult to know where to begin. Certainly a not-to-be-missed drink to try is the deliciously sweet lemon liquor for which the region is famous:
limoncello
. Lemons are abundant in this area of Italy and they have been transformed into many beautiful fragrances and edibles. The area is known for its fresh local fish and the coffee and pastries, well, it goes without saying, that this is how to start one's day when in Italy, and Amalfi is no exception!
The arrival point for most visitors to the Amalfi Coast is
Naples
, by train or by plane. Add
Pompeii
and the glamorous island of
Capri
to your list of places to visit while there—both are a short bus or boat ride away and well worth the visit.
It is ocean-side living at its best with all of the perks of European culture. Historic Pompeii is within easy reach by car or bus, and of course the gorgeous Capri island sparkles like a jewel in the middle of it all. It's definitely La Dolce Vita!
Contributor: 
Kim Maru of
Maru Photography
is a fine art wedding and travel photographer based in Vancouver, BC, Canada, where she lives with her husband, Jeremy Jackson, a fine art landscape photographer, and her adorable little cat and constant companion, Lulu. Visit 
Maru Photography
.